BOOK LIST
Breathe Like A Bear
https://www.amazon.com/Breathe-Like-Bear-Mindful-Anywhere/dp/1623368839/ref=sr_1_3?keywords=books+about+bears+preschool&qid=1637717143&qsid=147-6748581-1054764&sr=8-3&sres=1623368839%2C1951292308%2C1416958967%2C1416958568%2C082343169X%2C1426319592%2C0593179269%2C0394848357%2C0698114051%2C1984852094%2C1452141991%2C1951287398%2C0062350331%2C0763619841%2C0823424316%2C076145330X&srpt=ABIS_BOOK
"Wow, spring has come! I've missed my friends!"
An itty-bitty mouse said.
And he tiptoed to his friends to wake them up.
A bear is sleeping, a bear is sleeping, in a cave, in a cave.
"Wake up my dear friend, wake up my dear friend.
Spring has come, spring has come."
A turtle is sleeping, a turtle is sleeping, in a burrow, in a burrow. "Wake up my dear friend, wake up my dear friend. Spring has come, spring has come."
"Flip-flap butterfly! Let's go together!"
A hedgehog is sleeping, a hedgehog is sleeping, in a log, in a log.
"Wake up my dear friend, wake up my dear friend.
Spring has come, spring has come." "Happy spring!"

https://www.nps.gov/articles/when-bears-wake-up.htm
When spring arrives and the snow begins to melt, bears start to wake up after months of hibernation. It is an exciting time of the year for bears and park visitors.

When bears emerge from their dens, understandably hungry, they immediately begin to search for food. And there is plenty to eat. Receding snow reveals vegetation rich in nutrients. Winter kill – deer, elk, moose or anything else that may fancy a bear's taste buds, are easy pickings. It's an important time of the year for a bear as it begins the process of nourishing itself, continually gorging on food throughout the year in preparation for hibernation in the fall.

For visitors beginning their spring and summer vacations, the emergence of bears means a chance to see a bruin in its natural habitat, its home. But it also means that another food source presents itself to bears – the food you may accidentally (or intentionally) leave behind or provide.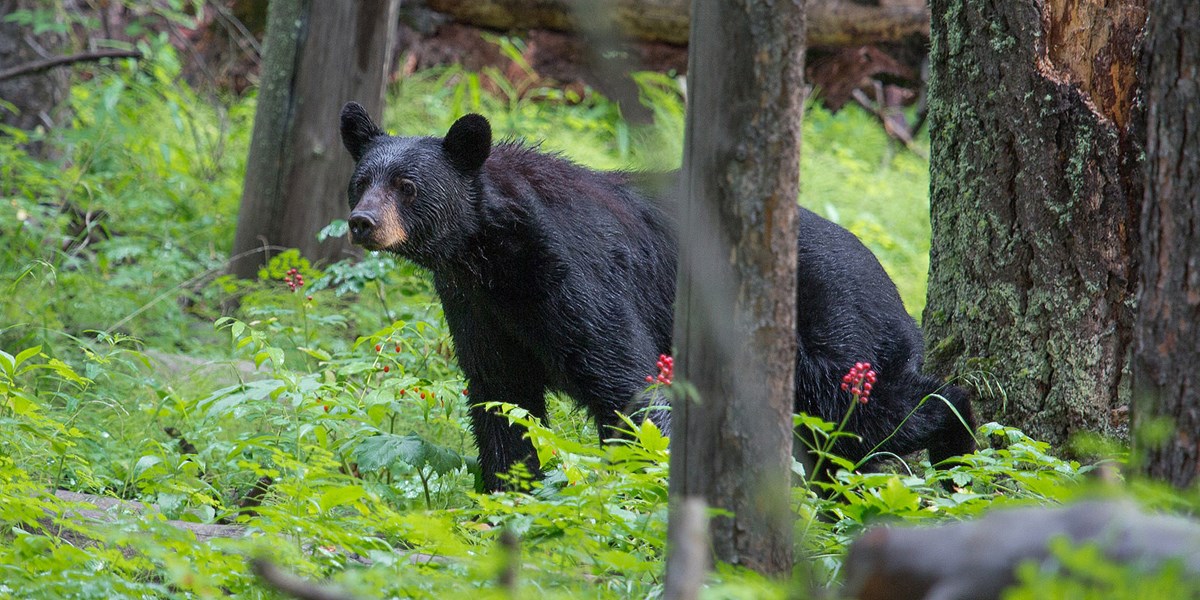 One of the many reasons people visit national parks with bears is to experience a wild place capable of supporting healthy populations of black and grizzly bears. When visitors become careless and do not properly store their food, bears are undoubtedly going to find it; their sense of smell is amazing. When visitors feed bears, it's a recipe for trouble. If bears become used to approaching people and eating human food (we call that habituation), the bear no longer seeks the natural food it is supposed to be foraging for. This creates a management and safety problem for park visitors and bears. While park staff work to manage bears and visitors, sometimes there is a need to remove a bear from a park. Imagine what that does to the ecosystem and your experience as a visitor coming to see a bear. For many, it means the park experience is diminished, and the ecosystem isn't as intact.

When we visit a park with bears, we are entering their home. As guests, proper behavior and etiquette on our part can contribute to a safe and enjoyable visit for us as our hosts. The National Park Service encourages you to learn more about bears in parks.
https://thepreschooltoolboxblog.com/the-dissolving-teddy-bears-simple-preschool-science/embed/#?secret=nJq9ysLByC
Teddy Bear cookies (homemade or commercial teddy bear cookies)
Bowl or other small container
Milk
Paper to chart students' guesses
Markers OR crayons
Timer or stopwatch.
Explain to the students that you are going to explore how long it takes teddy bear cookies to transform from a solid and dissolve (melt) in a container of milk.
Have each child make a prediction as to how long it will take the teddy bear cookies to dissolve. Chart the responses/guesses from the children on a separate sheet of paper.
Place the cookie(s) in a container of milk and start a timer. Have the children observe and gently feel the cookies as they begin to dissolve. Explore the following questions with your kids or students: https://84f986637ed527e380d0d8830ef52a6f.safeframe.googlesyndication.com/safeframe/1-0-38/html/container.html
What happens to the cookie(s) when they begin to absorb the milk?
What does the cookie feel like when it is starting to dissolve? Explore descriptive words with the children as they discuss what the cookie feels like (example: mushy, soft, squishy, grainy, etc.).
Stop the timer when the cookie is dissolved (or mostly dissolved) and see if any of the children had a guess that was relatively close.
For younger children, do the activity several times and discuss the concept of "passing" time. Be sure to invite the children to explore the stopwatch or timer and discuss how it works. Compare the timer to the hands (or digital display) on a clock, a watch, or a stopwatch at home or in the classroom. It is fun to explore how different timers work.
Extension idea for older children: Place the students' guesses in order from shortest to longest time.
For young children: arrange the students' guesses by seconds or by placing all guesses under one minute in one category, 1-2 minute guesses in a second category, 2-3 minute guesses in a third category, and so on.
Extension idea: Use different types of liquids to see if it has an effect on how fast or slow the teddy bear cookies will melt. Other suggested liquids could include: chocolate vs. white milk, cold water vs. hot water, juice, or hot chocolate.